Had korean food the other night in the city..
Side dishes
Seafood Tofu Soup, I wish you could see the clams, shrimp, and mussels but it was drowned beneath the broth..
Scallion pancake and rice on the side.
Later on, I wandered around Chelsea and Flatiron and came across Madison Square Park..
This is an installation piece by Jim Campbell, it's absolutely stunning!
The piece is called Scattered Lights.
It felt absolutely magical walking through the piece.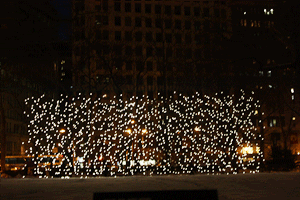 Sorry for the poor picture quality but here's a moving image, of the side. You can actually see shadows of people walking within the lights! So cool !!
Here's more info about Jim Campbell and the installation pieces he has up at Madison Square Park,
http://www.switched.com/2010/10/22/jim-campbells-scattered-light-colossal-sculpture-lightbulb-pixels/
and here is his porfolio
http://jimcampbell.tv/portfolio/public_art/madison_square_park/